Jim here from the "oldest town in Texas", and I started working on reconstructing a 1991 Sahara, converting it to a JP clone. I found this one on Facebook Market page for $2,500. It was a so called barn find, having not been driven for 5 years. I put some gas in the tank, fresh battery and spark plugs, and drove it home. Now, it needs a ton of work, but I have been busy getting this thing back on the road.
I've started a thread on it here:
http://www.jeepforum.com/forum/f12/reconstruction-91-yj-sahara-4029641/
Here are some of what I have done or are in the process of doing:
1. - Hard top repairs and rear window replacement. - I have some polycarbonate and the lift gate bar, so I'm cutting and fitting that this weekend. - DONE
I'm also doing some fiberglass repair on the hard top this weekend and some painting if I have the time. It's really beaten up and does not fit well to my windshield frame. I also have latches to install.
1.5. - Replace serpentine belt and idle pulley. This may address some of the noise I'm hearing when the AC is running. - DONE
2. - Adjust roll cage to fit hard top better. I may need to 'egg out' the holes some on the drivers side.
3. - Front seatbelts. Yep, the ones I have now are torn, and held together with a dog leash and a pipe clamp. Not safe at all. I have some on the way that should be in next week. - DONE
4. - Brakes. I have the front driver side one seeming to lock up on me. Not sure what would cause that. I also seem to have a front end that is noisy. Wheel bearing are most likely going out, but will need to test drive more to make a better determination. I'm going to let my local repair shop take a look at that for safety maybe next week. DONE
5. - Install exhaust kit. I'm looking into a complete factory style kit. I'm leaning towards a Crown, mainly due to price of the kit. I'd prefer a a stainless kit, but I want a whole kit that includes the pipes, cat and muffler as well. DONE
5.5 - O2 sensor replacement. I have an check engine light and rough "hunting" idle which may all be related. I'm also gong to change the MAP sensor and inspect the vacuum lines. - DONE
6. - Research and determine issues with AC compressor noise. Does not make any when idle, but while driving down the road, it sounds like a bearing is going out. AC is a low priority but with Summer in Texas well on it's way I'm going to want this pretty soon. - DONE
7. - Soft top with half door uppers - I'm making a "fun runner" with this one, and I want a good soft top with frame kit. I'm just needing to figure out what to get. OEM if I can find a frame kit, or Bestop Supertop if I can't. Found a decent copy of an OEM frame kit by Rampage Parts, thats close enough, and a cheap top, Bestop's economy line Pavement Ends. - DONE
8. - Removal of the body lift kit and return to factory specs. I'm not sure what to get. Chris says the rubber is better than the denser urethane ones. I want a good ride, so again, he talked me into the rubber ones. I just don't know where to get that from.- DONE
9. - Replace wheels/tires and return to factory size tires. I have the wheels I want, I just need to get the tires I want. I will end up doing this at the same time as the body lift removal. I now have the wheels. I'll install them when I get closer to removing the body lift. DONE
10. - Old Man Emu springs install. Chris talked me into these to improve the ride and handling of this Jeep. OME 37R springs with Skyjacker Hydro 7000 shocks all the way around.
11. - Paint - going to go with the low gloss Sand Beige Metallic that was on the 92 model. That my favorite color of YJ's. DONE
12. - Seats recovered - When I get this thing back on the road, I'm going to have my local upholstery guy look into what he can do. - I found a set of good condition original 92 Sahara seats, so I installed them. - DONE
13. - Carpet kit. Right now I want the Sahara green, but not many carpet kits come in that color. DONE
14. MAP sensor may need to replaced. - DONE
15. The gauges need to have a good cleaning. Maybe this weekend, time permitting. - DONE
16. Paint interior dash gray. - DONE
17. Paint door skins and plastic seat parts - DONE
Here are some pics: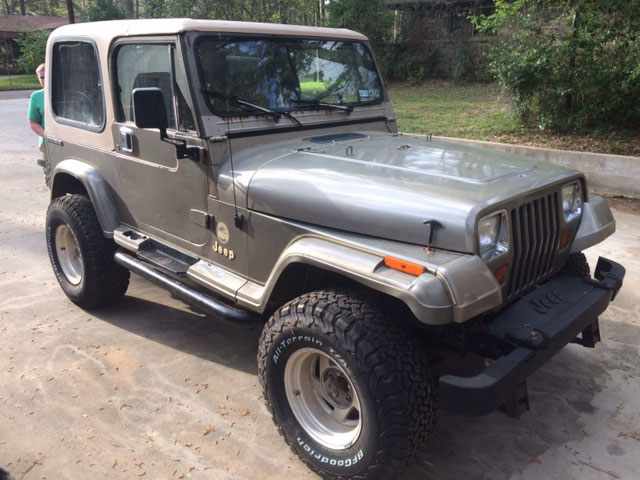 Cleaned up after I got it home.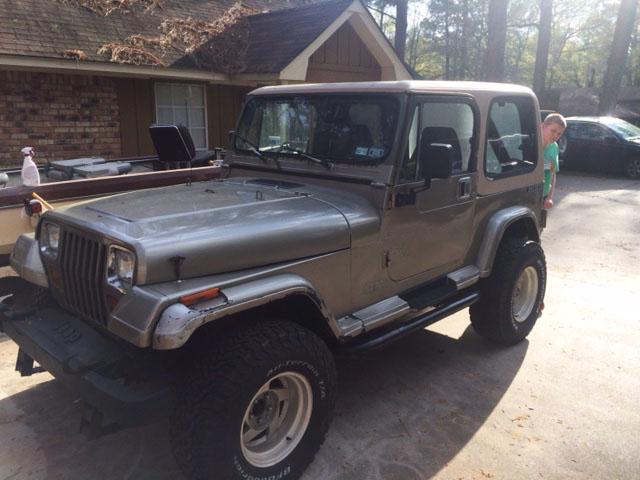 Side steps need to be replaced.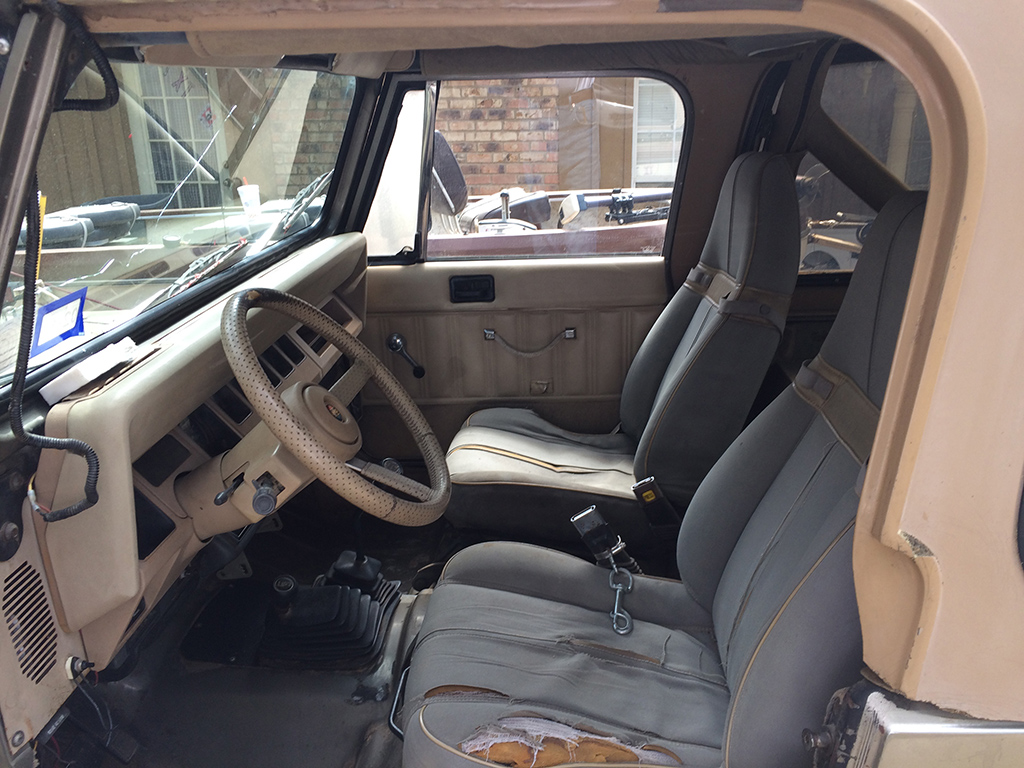 Old seats beyond bad. Looks better in the picture than in person.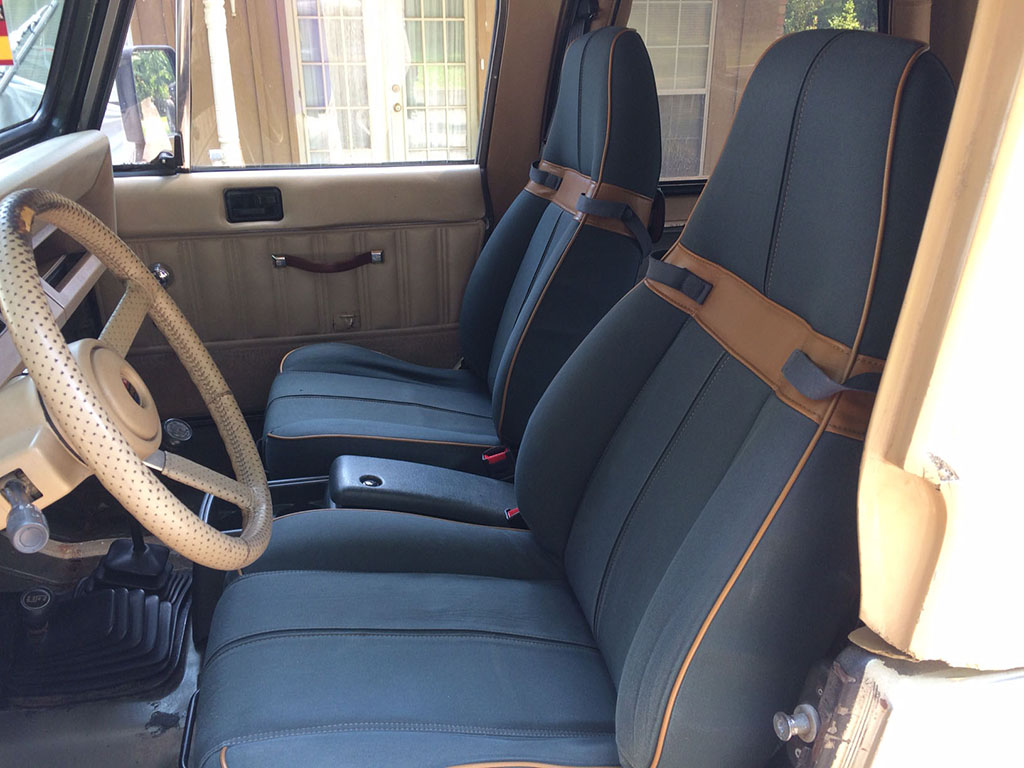 Found a set from a 1992 Sahara along with a green center console.
More to come...